Cooking with Venison!
We are a deer hunting family! I had NEVER eaten deer or even really known anyone that hunted till I met my hubby..... wow, has my world changed!
Anyway, cooking with venison is something that I struggled with at first..... I just couldn't get used to it and I thought it always tasted gamy..... well, not any more!!!! I learned the
SECRET!
Secret
to fantastic (you will never know it is venison) meat:
VINEGAR!!!!!!!!!!
The acid totally takes away the game flavor! Period.... no more!
When I brown ground meat I simply add it while browning (I don't measure, but about 2 TBL per pound). When I make a roast I just always add vinegar to the cooking juices and I cook it in the crock pot.
I have also started canning deer meat.... talk about NO game flavor and a jar full of yummy! I will have to post on that later!!
****Linking with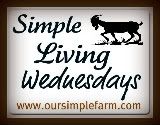 Have a BLESSED day,
BE a BLESSING!
Heather